About a month ago I recently found a tool that allowed me to clearly plan and map out my characters sets. I find it better than vindictusdb's tool because it allows you to insert specific stats and put them up against certain bosses. This tool also takes skills special to each characters that are changed by stats(Evie, Vella, and Lann) and shows you what that gear setup does for you. I found it so helpful that I'm deciding to show it to the guild forum!
Vindictus Armory Link
Keep in mind that a guy on the east server named Shippuu made this. All credits go to him!
___________________________
~1) First make sure you fill out your characters base stats (stats you have with nothing on, including accessories) and then click update. After that you will be able to select the character you're using and continue.
~2) Double click the spaces where gear should be and on another window you should see a list of items pop up. If you hover over the name you will see its stats. Double click the item you wish to insert. If there are differing types of items (Ex: Small Shield, Large Shield / Light Armor, Heavy Armor) there is a tab on the window to assist you. If you right click the item you can add enhancements, enchant scrolls, change the quality, and even add infusions. Near the bottom of the set window you can see a "NX" tab. Use this tab to enter outfitters that you use (it only uses premium outfitters for some reason). You can create up to eight different sets and use the tabs to alternate between them to see what one fits your needs more.
~3) You can drag items to storage that you have modified in order to swap them out to look at individual stats and even compare two items to see what one holds a larger amount of power. This item comparison tool even takes into account additional damage from enhancements. You must enter a boss beforehand to compare weapons.
~4) After you find what set fits your needs, you can see how your character does against any certain bosses (raid bosses lvl.60 and up) on paper. If your character has any unique skills (Lann, Vella, Evie) you will see extra information under "Unique Skills." You will also see a table that shows your character's stats like they would be shown in the Vindictus game.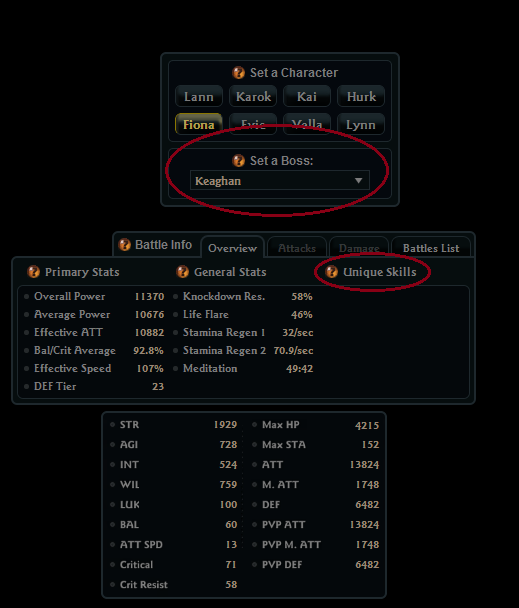 Once again all credits go to Shippuu on the east server. Have fun out there guys!  


Last edited by Aldanich on Fri Jun 20, 2014 8:16 pm; edited 1 time in total